Opportunities after Graduation
Opportunities after graduation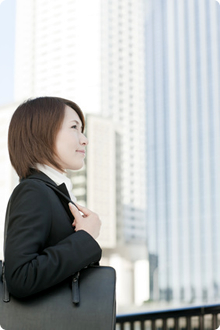 In recent years, 60% of our graduates have advanced to graduate school. The other 40% find employment in national and local governments, public institutions, and private corporations. Our graduates, including those who complete the graduate program, have successful careers as corporate employees, public institution employees, civil servants, teachers, etc., both domestically and internationally.
Since many of the faculty members who teach in the CPPS also instruct in the Doctoral and Master's programs in Policy and Planning Sciences and Master's program in Service Engineering, students who advance to graduate school often choose the Policy and Planning Sciences program and engage in research work that follows their graduation thesis. Other options are to advance to the Risk Engineering or the Life and Environmental Sciences, to which some of the faculty members who teach in the CPPS belong. Other students have of course advanced to Tsukuba's other degree programs, and to graduate schools in other universities.
Looking at job placements in the private sector by students' majors, companies in the financial sector (especially banks) are the most popular for the Major in Social and Economic Sciences, followed by non-manufacturing sectors such as information, distribution/services, etc. Many of the graduates of the Major in Management Science and Engineering find employment with companies in manufacturing and information industries, such as electrical, electronics, information, telecommunications, and software. The graduates of the Major in Urban and Regional Planning tend to work in urban and regional development industries, mainly in construction, real estate, and transportation.
Our graduates also hold various positions in the civil service, including public administration, economic services, civil works, and architecture.
Recent major employers
(including for those who advanced to graduate school)
| | |
| --- | --- |
| Construction and Real Estate | NTT Urban Development, Obayashi, Kajima,Shimizu, Taisei, Daiwa House, Tokyo Keiki, Nikken Sekkei, Haseko, Mitsui Fudosan Housing Lease, Mitsubishi Estate |
| Manufacturing | Asahi Glass, NEC, Kao, Canon, Kyocera, Komatsu, Sony, Toshiba, Toyota Motor, Hitachi, Bridgestone, Honda Motor, Mitsubishi Heavy Industries, Yamaha Motor, LIXIL |
| Information and communication | NTT Communications, NTT DATA, NTT DOCOMO, NTT West, NTT East, KDDI, NS Solutions, SoftBank, IBM Japan |
| Transportation | JR-West, JR-East, Seibu Railway, Tokyu, Toyota Tsusho, Mitsui-Soko, Yamato Transport |
| Finance / Insurance | Goldman Sachs Japan, Shinkin Central Bank, Japan Finance, Norinchukin Bank, Nomura Securities, Mizuho Bank, Sumitomo Mitsui Banking, Tokyo-Mitsubishi UFJ, Japan Post Bank, Resona Bank |
| Specialty and Technical Services | Accenture Japan, NTT Laboratories, Deloitte Touche Tohmatsu LLC, Kozo Keikaku Engineering, Ernst & Young Shinnihon LLC, Dentsu, Teikoku Databank, The Japan Research Institute, Nomura Research Institute, Hakuhodo, BrainPad, Mitsubishi, Recruit Holdings |
| Life Related Business | Gree, DeNA, Bandai, Matsumoto Kiyoshi, Yahoo Japan, Uniqlo, Rakuten |
| Public Agency | Ishikawa Prefectural Government, Ibaraki Prefectural Government, Kagawa Prefectural Government, Ministry of the Environment, Ministry of Economy, Trade and Industry, Ministry of Land, Infrastructure, Transport and Tourism, Saitama Prefectural Government, Shimane Prefectural Government, Chiba Prefectural Government, Tsukuba municipal office, University of Tsukuba, Tokyo Institute of Technology, Tokyo Regional Taxation Bureau, Tokyo Metropolitan Government, Tochigi Prefectural Government, Nagano Prefectural Government, Fukushima Prefectural Government, Yamagata Prefectural Government, Yamanashi Prefectural Government, Japan Ground Self-Defense Force |